Finished my 3rd 5k race this morning!
The Critz Tybee Run (5k and 1/2 marathon)
I need to step it up to 10k at some point, but I am loving the experience this is giving me in the whole race day scene, and for me, a 3.1 mile run is still good! There also was a 1/2 marathon today- it started at the other end of the island where the 5k finish line was. Next year...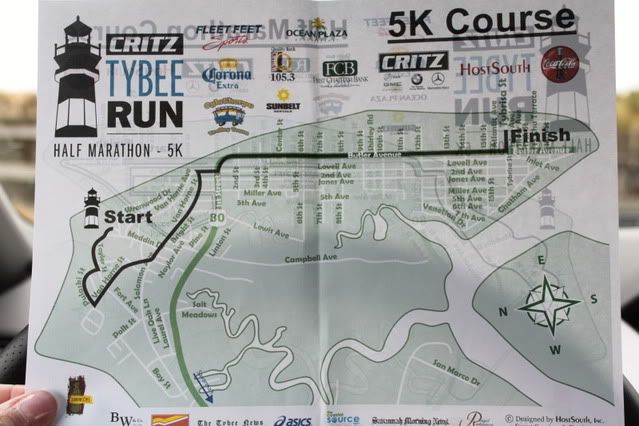 Yesterday was the package pickup/expo out at Tybee (about 15 min. from my house- it's "the beach" for Savannah).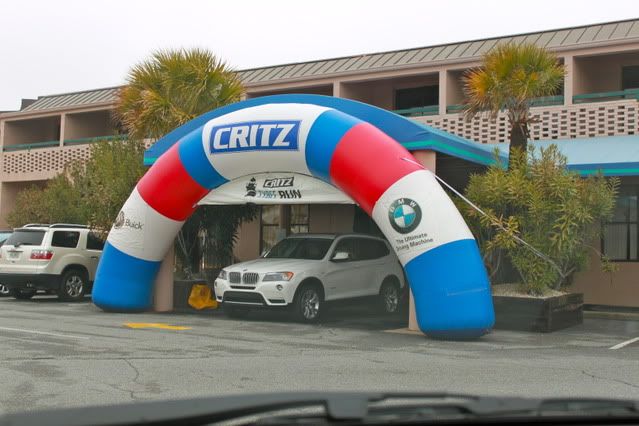 Got my shirt and race #/chip and tooled around the (pretty small) expo.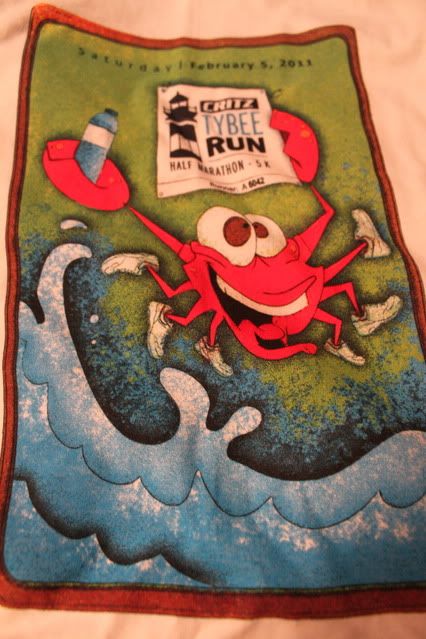 Scored a pair of Skirt Sports tough girl running pants/skirt for 1/2 price! SO exciting as I had been drooling over these for a couple months, but just couldn't get myself to plunk down almost 100 bucks. They worked GREAT today! Best thing is the pockets- held my phone/key/ipod, no problem!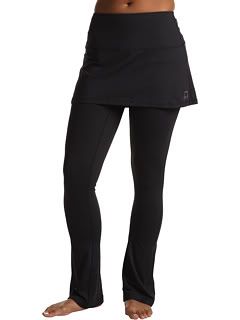 After the expo, I drove down to North Beach where the start of the race was going to be to check it out. It was cold and dismal yesterday, but no rain. Today for the race we got the added bonus of driving torrential rain (off and on- always rain, sometimes not as heavy). I took some pics of the start area since I knew I wouldn't bring my camera today- also have some shots of the course.
lighthouse (start) from the beach: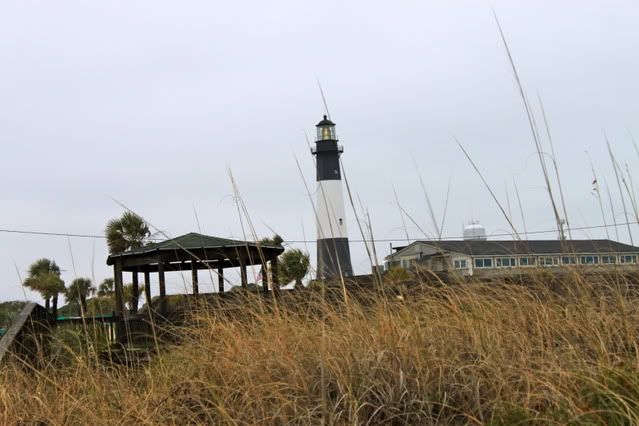 They were bringing in the all important port o potties (there is part of an old civil war fort here):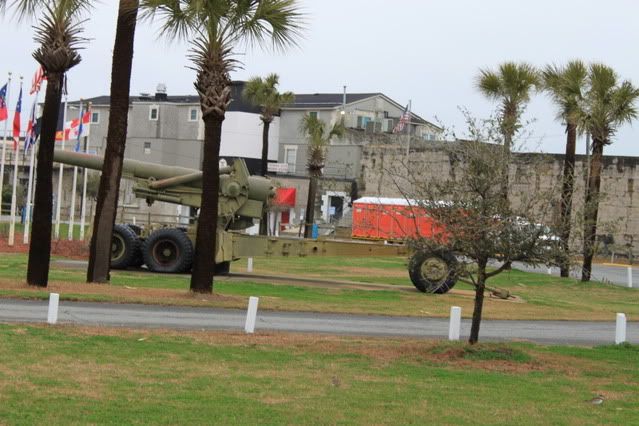 some of the roads we ran on: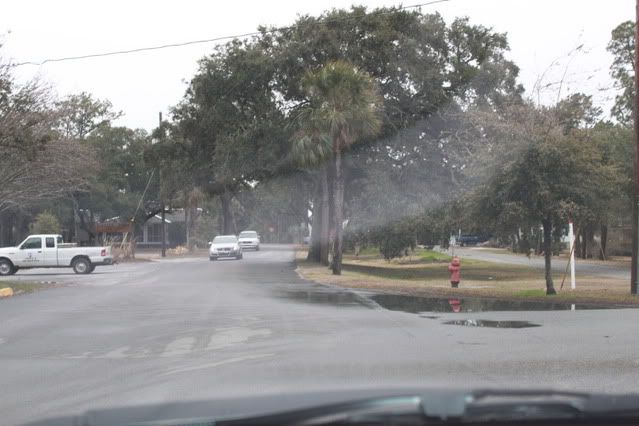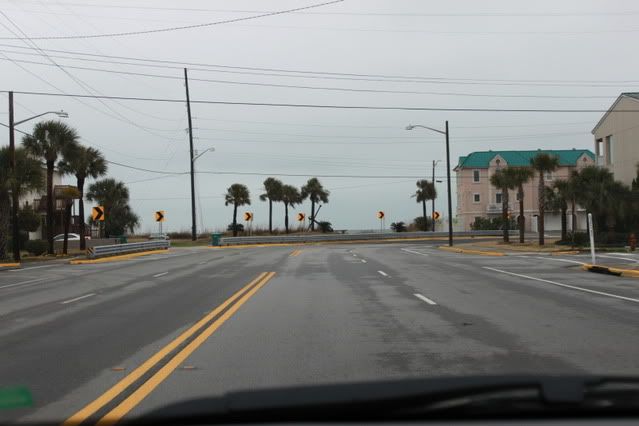 So this morning I woke up, had my coffee/water/english muffin and was out the door by 6:45am- kids and Mark still sleeping. It was cold and rainy, kind of wished at that point that I was in bed too, but was also excited for the run. It was super foggy on the marsh driving out to the beach, but as there were tons of cars going out for the race, it was easy to follow taillights.
Got the the parking area a little after 7, probably too early, but I wasn't sure how fast the lot would fill. Sat in the car for a bit, but nervous energy had me out by 7:20 or so. Milled about with the other runners and ran into my friend/spin instructor's husband and nephew and hung out with them until the start. Was great having someone to talk with. Michael was running for my friend's dad who was sick and her nephew was running in his very first race. I was telling them about couch to 5k and he said that that was what he was doing- literally, he was on the couch and without training was doing the 5k, ha ha. Anyhow, the rain really started to pick up while we waited for the start, everyone was saying to start early, but at 8, as scheduled, it began.
I started at my normal slow pace- was maybe a little faster, but had to get around the many walkers. Did the first mile in around 10:30, then as I was passing someone I turned my leg kind of funny, so I slowed to a walk for a bit. Each time I began to run again my left calf was all weird, but I pushed on- I would run (for me)fast (Garmin says around 9min/mile) and then walk for a little. It ended up I averaged just over an 11min/mile, which is my usual, so no harm. I stretched a lot after and I think I am okay. Anyhow, the last mile I think I slowed a bit- the rain was really coming and the headwind was strong, but I knew where the finish was from the map earlier, so the final 1/3rd of a mile or so I really kicked it up a bit. As I approached the line I saw 34:20 (ish) and so I really sprinted (my sprint- like a 6:30/mile) to get in under 35, which was my goal given the weather. My Garmin said 34:53, but my chip time was actually
34:31:47
since I started in the middle of the pack and didn't cross the start line right at 0. I surely have room for improvement, but am proud :)
New PR!!
(old was 34:42 in my first 5k on 10/30/10- I ran the whole thing that day, go figure!) Was 22/51 in my age group- solid MOP :D
Got my water, kept walking around to loosen my calf. Felt good! Called Mark who had CALLED ME with about 1/2 mile to go (I didn't answer). He said, "oh, I thought it'd be canceled, it's really raining here" (here being like 7 miles from me, ha ha). I told him I think running is like football, they don't cancel it (Unless it's snowing in Philadelphia...). I also did my post run photo (by the race photographer), something I'd never taken the time to do before. Snapped a couple with my cell phone to see the misery of the day: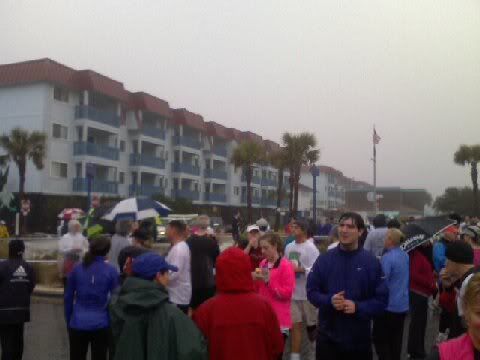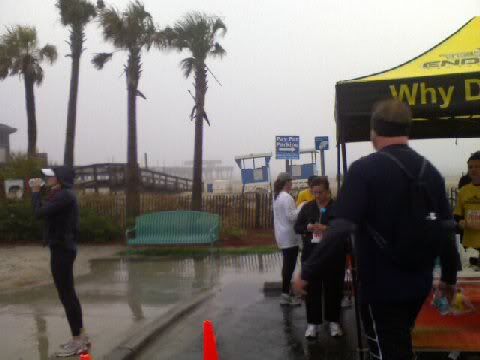 I then started walking to the trolley pickup to get back to my car- on a nicer day I'd have walked the beach back, but, uh, NO! Remembered I had put my jacket in the dry clothes bag service they had, so went back to get it, THEN went to the trolleys. The trolley dropped us off about 3/4 of a mile from the cars because of the 1/2 marathon, by this time I was shivering. Finally got in my car, cranked up the heat and left... made it about 200 yards before getting in a huge line of traffic. Apparently the ONLY way out was crossing a street they had the 1/2 marathon going by on!!? So cars had to wait for a break in the runners and quickly cross- no police or anything- THAT was nuts- the rest of the day/race was really well organized, but that was so crazy! Took me about 25 min. to get out, but that wasn't the big deal, I was imagining running 13 miles and having to play Frogger in mile 6, ha ha!
Mark took the kids to IHOP while I ran- they LOVE when I do races because he always takes them out to breakfast. I missed going due to the delay getting out, but now I am home, showered (a long HOT one) and happy! Next race is the
Shamrock Run
in downtown Savannah on March 11th. An evening run, which I never do. Should be fun though! Will post race pics when they are put up - should be lovely and much like a drowned rat ;)