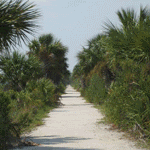 Started this post 2 days ago, but Mark was home ALL weekend! And it was his

BIRTHDAY

! And so I didn't get back on the computer until just now. Anyhow, Friday I decided to run out towards Tybee Island on a rails to trails trail. I had known about this trail for years, just never checked it out- wasn't exactly sure where it was, etc. Well, turns out it's like 7 minutes from my house by car, ha ha! I parked at the midway point- 3 miles out to the left (Towards Ft. Pulaski and the ocean) and 3 miles out to the right (back towards Savannah). I chose the right and did

3 miles out and back for a total of 6.
It was a GORGEOUS day- low 70's, great breeze off the water- NO GNATS (if you live on the coast down here y'all know what a treat that is with those temps!). The trail was super straight- sort of like

running on a treadmill in that you just point and shoot, but much better scenery

. There was tons of little wooden bridges to go over. There were curiously very few others on the trail. The direction I went was wide enough for 2 bikes, which is nice, though I only saw 2 all morning. I ran in a

running skirt and tee shirt

- so nice to lose the tights and ear warmers!
I felt GREAT in terms of endurance, however my left side was still bothering me- ever since the race on Tybee a few weeks ago it's been weird- like it hurts when I lift my leg- I think it might be

sciatic

? It feels better when I press on the area. I may have aggravated it in my Iron Bodies class Thursday as we did an exercise that involved kind of a deadlift to the side with weights. I took spin yesterday and it felt good, but this morning is bad again... Will perservere!
During my run I did stop to stretch it out several times
.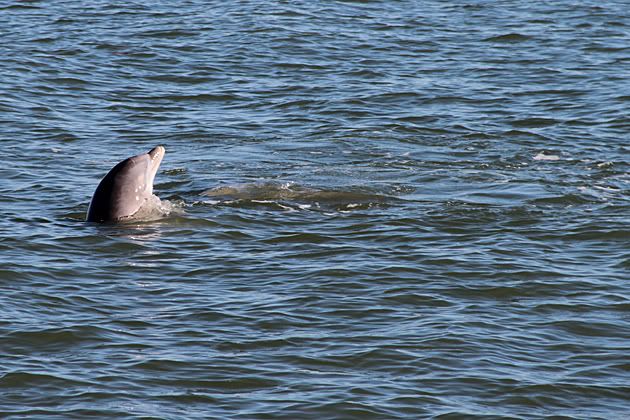 Next time I go out I'll go to the left- upon talking with some people I understand this is the more scenic route (though the way I took was pretty awesome!). I've heard of

pods of dolphin and the occasional manatee swimming along as you run

, how fabulous would THAT be!
Here is some more detailed information about the trail -From Sherpa Guides GA :
Old Savannah-Tybee Railroad (McQueens Island Nature Trail)
This is one of the best biking trails on the coast. A rails-to-trails conversion, the 5.8-mile trail follows the length of McQueens Island toward Savannah, following the Savannah-Tybee railroad bed. Accessed at the entrance of Fort Pulaski or at the trail's halfway point 3 miles west of the entrance on US 80, the trail consists of crushed oyster shell and limestone, which makes a nice surface for a mountain or beach bike. In 1887, Daniel G. Purse and John J. McDonough of the Savannah and Atlantic Railroad built the Savannah-Tybee Railroad, an important part of the area's history, which linked Savannah with downtown Tybrisa Pavilion. The Central of Georgia Railway purchased the railroad in 1890 and operated it until 1933, when it was put out of business by the automobile highway that linked the island with the coast.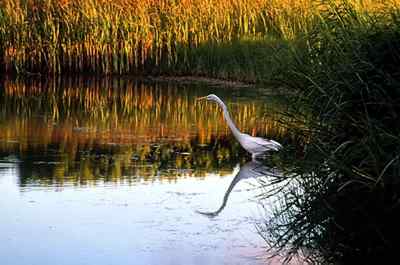 In history books, the hour-long rail trip is recounted with no small amount of nostalgia, telling how vacation-bound travelers, excited to get to Tybee, were kept cool even in the middle of summer with fresh marsh breezes blowing in through the windows of the train. Train tickets cost 18 cents for adults, 10 cents for children.
Today, abandoned railroad ties, pushed off the banks into the adjacent marsh, lie ignored and forgotten. But hikers and bikers can't help but be impressed with the strenuous efforts that got them here in the first place or the beautiful railroad journey railroad passengers must have enjoyed in the Roaring Twenties.
McQueens Island is defined by the south channel of Lazaretto Creek to the north, and tidal rivers Lazaretto Creek, Oyster Creek, Bull River, and St. Augustine Creek to the south. Lined with cabbage palm trees, southern red cedar, and live oaks, a hiker or biker will be treated to views of salt marsh on one side and the Savannah River on the other. Plant communities include salt marsh, high marsh, salt pan, and mixed shrub and juniper. The dominant plant in the lower elevations of the Holocene marsh, much of it growing to 6 feet in height, is Spartina alterniflora. Wildlife is plentiful. As fiddler crabs scurry out of your way, look farther down the path and you may see the shy and elusive willet (Catoptrophorous semipalmatus) crossing the road into the marsh. Hundreds of willets nest in the area. Redwing blackbirds, great egrets, and great blue herons are commonly seen along the trail, as are Carolina diamondback terrapins, raccoons, bobcats, and an occasional Eastern diamondback rattlesnake.
Wide enough for two bikes to pass each other comfortably, the well-maintained pathway has exercise stations for joggers, picnic tables for families, and wooden platform overlooks for classes or photographers. Plaques along the way give distances and illustrate fauna commonly found in the salt marsh. At the western end of the trail, you find a beautiful live oak festooned with Spanish moss and more portable toilets. The halfway access point also has portable toilets and a paved path to a wooden deck that overlooks the marsh. Motorized vehicles are prohibited on the trail.
Trail: The trail is 5.8 miles one-way. Access is gained at one end at the Fort Pulaski National Monument entrance, or the halfway point 3 miles west of the entrance on US 80 just past Bull River. Suitable for mountain bikes.
Directions: From Savannah, go approximately 13 miles east on US 80. Look for signs to Fort Pulaski after leaving Wilmington Island. The park's entrance station is on McQueens Island on the left before you reach Lazaretto Creek. The trail's entrance is on your left marked by a large sign. The halfway entrance is 3 miles west of here on US 80 past Bull River.
Activities: Nature hiking, biking, picnic areas.
Facilities: Bathrooms, hiking trails, picnic areas, exercise stations, handicapped accessible minitrail to overlook at midpoint, viewing platforms, educational signs, parking.
Dates: Open every day.
Fees: None.
Closest town: Tybee Island.
Downside to the trail?

NO DOGS

... Also, it's pretty open to the sun, I imagine it gets pretty brutal in the summer, though I love me a good bake :)
You can also park at Ft. Pulaski (a National park) and go the whole 6 miles out and back for 12 miles- will keep this in mind for later in my 1/2 marathon training. Or I might just park in the middle and go out and back 6 and then the other way out and back 6-

that way I can hydrate/refuel at 6 miles without carrying anything

. I didn't carry water this time and I needed it at the end. I was thinking there'd be a fountain along the trail or at least at the end, but there is not. There ARE port o' potties at the midway part where you park - I did not need them so I cannot comment on their condition inside...