So I started this Monday snack post as a way to share good, healthy snacks. Last week I featured my Valentine's day cake. And now a week has rolled around (ha ha, rolled, much like I will be doing after all the cake) and I want to talk about Mark's birthday, which of COURSE includes cake. A GIANT, 3 layer, cream cheese icing loaded

CARROT CAKE

.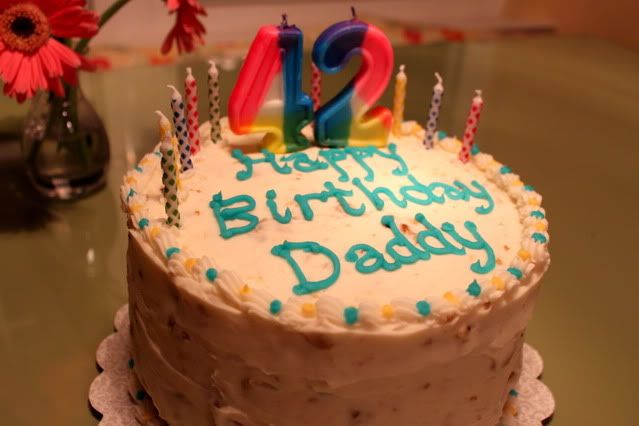 mmmm. We love carrot cake. Top two layers of our wedding cake were carrot cake. I actually only had a small piece of this one, but it does keep whispering sweet nothings to me from the downstairs refrigerator where I've banished it. At least it gives me some beta carotene, right? And cream cheese- there's some protein and calcium in there? Yeah, I know... but
Anyhow, it was a nice weekend- Mark's birthday was Friday, we celebrated at home with the kids when he got home from work. I made a super meat laden pasta dish for him, which he loves. I don't do the red meat thing, so although I do make him stuff with meat sometimes, never with 2

DIFFERENT kinds- sausage AND ground beef

. I KNOW, fancy! Then we had the aforementioned CAKE.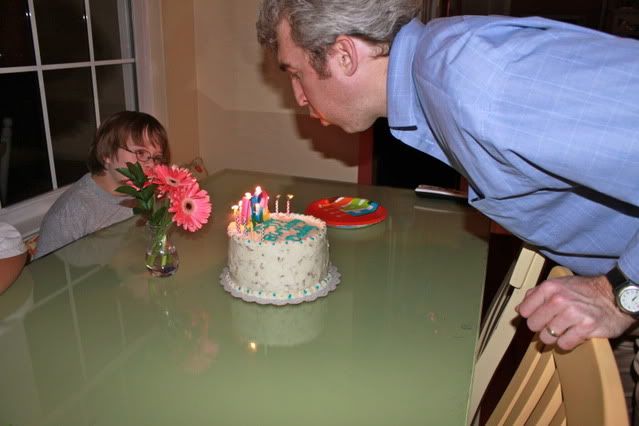 Saturday night we had an ACTUAL babysitter, and

with no work function or wedding or anything REQUIRED we just went out, just he and I, for dinner

! I don't know if we've ever done that, I am sad to say (we go out with friends and stuff, and lots with the kids, just never solo- it was NICE!) We went to Toucan Cafe in Savannah I had actually won a gift card there over Christmas from Something Special magazine (a local AWESOME magazine for parents of kids with special needs), so we splurged on a nice bottle of wine and tipped our fabulous waiter, Greyson pretty well. We were seated in a cozy little corner of the cafe (got this photo from Google, but that was our table only it had 2 not 3 seats. Note we are in the quiet, no kids part of the restaurant, how novel!)
I got the

wasabi encrusted tuna

- just barely pan seared, mmm was awesome. The mashed potatoes I could have done without but the snow pea/red pepper with balsamic reduction was great. I'm not a big mashed tater fan anyhow.
(photo stolen from their website)
Mark got the black and blue prime rib- was cooked perfectly (or so he said) and he licked his plate clean. We were too stuffed for dessert, so we finished our wine and left. Of course it was only like 8 pm, ha ha, so we decided to go to the beach to hang out for a bit- we had a sitter, there was

no WAY I was going home RIGHT at bedtime

, I've done bedtime the other 5,000 times in their lives.
We went to AJ's - we had heard they had live music, but it was crowded and not amenable to chat, so we just got a drink and soon left. We went down the the beach and looked at the beautiful HUGE moon that was out reflecting on the ocean for a bit, then headed home.
It was a nice weekend! Sunday we had church and then took the kids on a walk out by the YMCA. Today Mark is back to work, the kids go back tomorrow.
And next Monday's installment of Monday's Munchies? No cake... Well, actually, Thomas' birthday is Thursday, so I likely WILL have more cake photos... I wonder why I can't lose weight despite all the working out...??