Spent the morning Saturday at Thomas'
horseback riding therapy
and then the afternoon and evening at various
baseball camp/games
for Matthew. Was a GORGEOUS day, and every ballpark had a playground for the little ones, so all in all a great day... until Matthew started complaining of a headache and chills (in the final inning- I think he was sucking it up for a while though) By the time we got home he had a
101.3 feve
r poor kid.
Sunday we lay low with Matthew being sick and Mark on call. Took the littles for a
bike ride/walk
around the neighborhood in the morning, and then when Mark got home after lunch I took them for another
bike ride
- this time around the Y.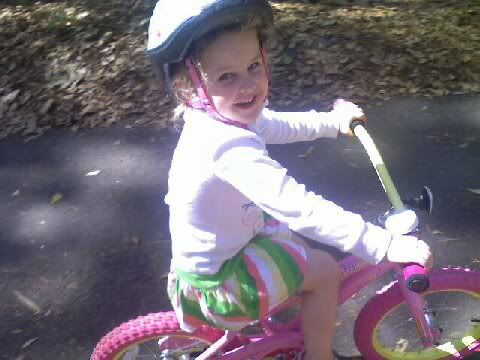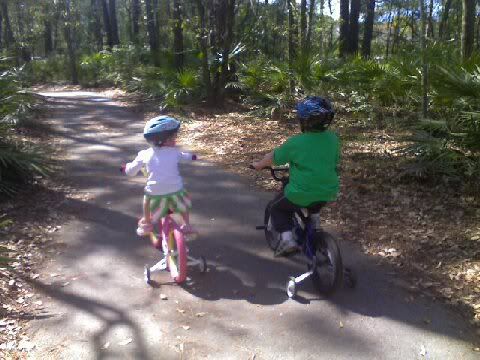 We did about 2.5 miles in all. I tried running a bit, very disappointed to say it
hurt
... I DID spend a couple hours in the garden yesterday
weeding/clearing out
, so I am hoping it was just overuse. I am going to try a little again today, but plan mainly walking. Leah Kate has gymnastics at 11.
Here I am looking MUCH less
thrilled
with the way things went at our bike ride/walk yesterday afternoon than my daughter is: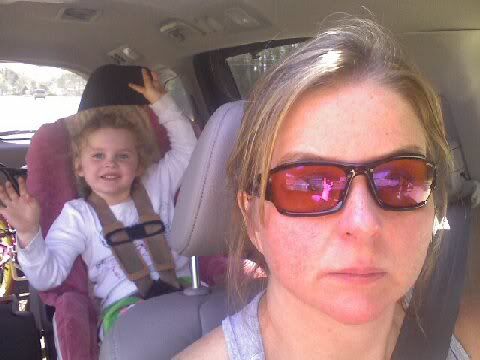 Last night I rallied Matthew from his
stupor of naps and tv
to make a little video in honor of their Pop Pop (my FIL). His birthday is today and he lives 800 miles away. Leah Kate and Thomas really performed, poor Matthew definitely was not at the top of his game (he said it hurt his throat to get the high notes), but did pretty well all things considered. HAPPY BIRTHDAY POP POP!!
I did let Matthew go to school today, he feels better though not 100%.
He didn't want to miss baseball practice
:) It sure was dark out there at the bus stop this morning, darned DST!!
HAPPY MONDAY Y'ALL!!