I got a few e-mails requesting this recipe, so figured I'd just put it up here :) These are the BEST CUPCAKES EVER!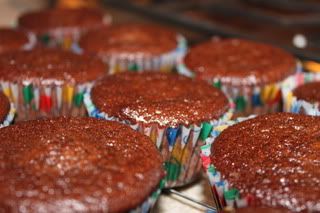 Yummy chocolate cupcakes

2 cups all-purpose flour
2 cups sugar
1/2 cup cocoa powder
2 teaspoons baking soda
1 tsp baking powder
1/2 tsp salt
1 cup vegetable oil
2 eggs
2 cups of buttermilk
2 teaspoons vanilla
(optional- a bag of Ghirardelli MILK chocolate chips)
directions.
preheat oven to 350 degrees .

in mixer, on low speed, mix together flour, sugar, cocoa powder, baking soda, baking powder and salt.

add oil, eggs, buttermilk and vanilla.

increase speed and beat for 2 minutes, until well combined (will be a little thinner than a box cake)

spoon into paper-lined muffin cups, filling halfway (makes around 24-30).
(optional: add 3-4 choc. chips and top with a bit more batter to cover- the
Ghirardelli milk chocolate chips are a little big so tend to sink to the bottom, still taste delicious- I've toyed with cutting them in a few pieces
, but have not yet- try it an report back :

)



bake for about 25 minutes or until tops are firm and tester comes out clean. transfer to rack and cool completely.
vanilla buttercream frosting
1 cup/ 2 sticks (250 mL) butter, softened
3 oz (90g) cream cheese, softened
4 1/2 cups (1.125L) 10x (powdered) sugar
1 1/2 teaspoons (7 mL) vanilla extract

directions :
in a bowl, beat together butter and cream cheese until smooth.
reduce speed to low, and add icing sugar, one cup at a time, beating after each addition until smooth. stir in vanilla. If you want color, add paste food coloring now.
If desired, add remaining choc. Chips to small sandwich bag and melt 30 sec at a time in microwave. Cut very small corner off bag and pipe decorative wrting/shapes on top of iced cupcakes
You must share!!