But alone and with smoke and bugs instead of fire and mud...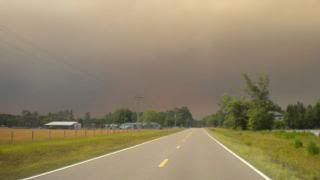 Today's run, again just one mile of running, but was able to run it without stopping. I am hoping to look back on this in a few months and think "Oh I remember when a mile was hard"...
There are wildfires in southern GA that are making it smoky here. Yesterday it looked like a cloudy day but it was just smoke. Made it a little harder to breathe. Humidity and gnats/greenheads bad too, but
feels GREAT to get out there and be able to finally RUN again
Did 2 miles total, .3 warmup, 1 mile run (around 11min) and .7 walk/cool down. Followed by lots of stretching, pushups/planks/situps.
Going now to Thomas' photo shoot for our DS group's yearly calendar. He's in mood, God bless the photographer, haha!!